Waxing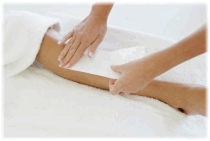 Waxing is a form of semi-permanent hair removal, which completely removes hair from the root. Unlike shaving, new hair will not grow back for about 3-8 weeks, taking longer for regrowth the more often you do it. Almost any area of the body can be waxed, including underarms, arms and legs, bikini, eyebrows, lip, chin, and so on.
Brows ~ $12
Lip ~ $10
Lip/Brow Combo ~ $20
Forearms ~ $15
Half Leg ~ $25
Full Leg ~ $50
Chest or Back ~ $35
Bikini ~ $25
Full Leg and Bikini ~ $60
Underarms ~ $18
Ear Candling ~ A centuries old gentle remedy used to alleviate pain associated with earaches, headaches, dizziness, sinus drainage and excessive wax build up.
One candle per ear ~ $35 / 2 candles per ear ~ $49